Berg Studios

was founded in 1998 by Gregory Berger-Sobeck, alumnus and current faculty member of the Yale School of Drama​, where he teaches on-camera scene study.
---
Our studio is dedicated to cultivating the actor's skillset through imaginative and behavioral work. Students strive for authenticity and bold originality by building a repeatable technique.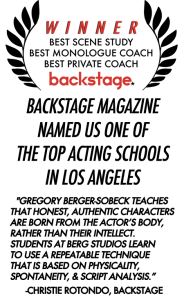 Our approach is twofold: first providing the actor with tools to make choices from the text and then leading them to find their own spontaneous behavior.  In doing so, the actor's task shifts from self-consciously asking "What do I look like?"  to examining "What do I see?" We believe that this foundation is applicable to film, television, stage and every genre imaginable.
Berg Studios offers drama school level training in on-going classes with our teaching staff of working professionals, as well as our curated workshops with world-class guest faculty.
A SPECIAL CONGRATULATIONS
---

Two of the Berg Studios faculty, Cornell Womack and Tessa Auberjonois, were both selected as recipients of the prestigious Lunt-Fontanne Fellowship this year. Each year this fellowship selects the top 10 actor/teachers out of every regional theatre in the country.