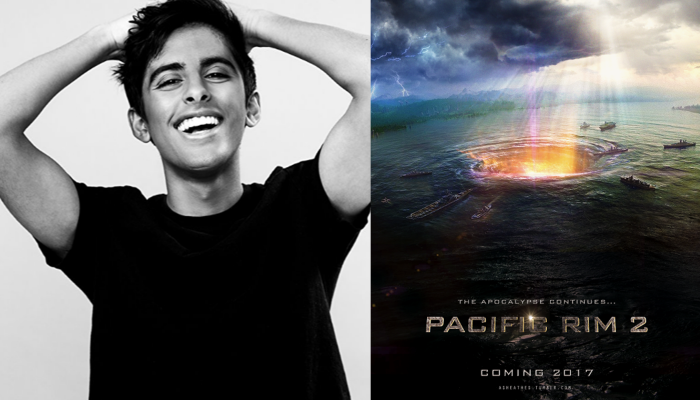 Best known for his role as 'Ravi Ross' on Disney Channel's hit series "Jessie" and its spinoff, "Bunk'd," Karan Brar is taking Hollywood by storm and seeking to break cultural barriers in the entertainment industry. He stars in "Bunk'd" on Disney Channel and 2018 will be a major year for Karan as he breaks out of his Disney roles for some exciting new projects including the Legendary Entertainment/Universal Pictures film "Pacific Rim: Uprising" and the YouTube Red teen dramedy series, "Youth and Consequences."
"Pacific Rim: Uprising" is a science-fiction monster film produced by Guillermo del Torro. The film is a sequel to the 2013 film "Pacific Rim" and also stars John Boyega, Scott Eastwood, and Jing Tian. Karan plays 'Suresh,' a new cadet for the Jaeger pilot program. To prepare for the role, Brar worked out with a personal trainer for several months both before and during shooting of the film, which included stunt and fight training as well as a monitored diet. The film is set to be released early 2018.
Born and raised in Bothell, Washington, Karan pursued various sports to try to break out of his shell and find his 'niche'. He soon realized sports were not going to be his calling in life, and his father, who had done theater in India, suggested that he try acting. After a few workshops and acting classes, Karan discovered he was far more talented and comfortable on stage than he was on the field. So, at the age of eight, he signed with an agent and quickly booked his first commercial.
Not long after, Karan's big break came when he landed the role of 'Chirag Gupta' in Twentieth Century Fox's hit trilogy based on the New York Times best-selling book series, "Diary of a Wimpy Kid." The films included: "Diary of a Wimpy Kid" [2010], "Diary of a Wimpy Kid: Rodrick Rules" [2011] and "Diary of a Wimpy Kid: Dog Days" [2012]. However, it is Karan's role as 'Ravi' on "Jessie" that truly put Karan on the map. In "Jessie," Ravi was a recent immigrant to the United States who was struggling to adapt to his new surroundings, while still trying to hold on to his Indian culture and religious beliefs. Since then, Ravi has adjusted and come into his own, bringing his considerate and sometimes naïve but hilarious personality to life in "Bunk'd."
With Karan's family originally being from Punjab, India, he understands the importance and responsibility of portraying the Disney Channel's first-ever series regular Indian character. Brar has helped the channel diversify culturally, while sharing his native Indian culture with its target audience of kids and families. On the other hand, as a first-generation Indian-American, Karan also feels strongly that it is his duty to show his fans and the entertainment industry that he is more than the cliché "Indian character," and he has something much greater to offer.
Karan has several other projects under his belt as well, including NBC's "The Night Shift" where he played a young Afghan drug dealer, the Disney Channel Original Movie, "Invisible Sister" and guest-star appearances on several Disney Channel shows. Brar also voiced the character of 'Mason' in Twentieth Century Fox's "Mr. Peabody & Sherman" and 'Prince Zandar' in Disney's "Sophia the First."
When he is not busy lighting up the big or small screens, Karan enjoys quality time with his friends doing anything that can get them outdoors, from beach trips to hiking and travel adventures. He also spends time working on his photography and videography techniques. Karan enjoys playing video games and discovering new music as well. His philanthropic efforts include lending his voice as a celebrity ambassador for Thirst Project, the world's largest youth water organization whose goal is to build a socially-conscious generation that will end the global water crisis. Brar also has a passion for helping those affected by or who have loved ones affected by mental illness. He hopes to help remove the stigma around the topic and let others know it is something that is okay to discuss. Karan currently resides in Los Angeles.