GREGORY
BERGER-SOBECK
Previous Faculty & Graduate
Yale School of Drama
Gregory Berger-Sobeck is a graduate and former acting faculty member at the Yale School of Drama in addition to teaching bi-coastally both in Los Angeles and New York. Additionally, he has taught workshops all over the world including in London, Paris, Sydney, and Tahiti.
Gregory's many regular private coaching clients include Oscar winner Lupita Nyong'o (Us, Black Panther), Emmy winner Riz Ahmed (The Night Of), Winston Duke (Us, Black Panther), and Portia Doubleday (Mr. Robot) among many others.
Mr. Berger has or is currently coaching on the following shows: Titans, Flow, Stargirl, Helstrom, Manifest, Physical, and an untitled Tracy Oliver project.
Mr. Berger opened The Berg Studios in Los Angeles in 1998, where he is the artistic director and master acting teacher. As well as teaching in Los Angeles, Mr. Berger teaches on camera acting at the Yale School of Drama for several months in the fall, during which time he travels back and forth in order to continue teaching his LA classes. Berg Studios alumni have been Emmy Award Winners, Emmy Award Nominees, acted on Broadway and have had multiple series regular and guest star roles on television. Mr. Berger has also been voted Best Acting Class, Best Classical Class, Best Monologue Coach and Private Coach by Backstage Magazine.
As an actor he has was nominated best actor at the Beverly Hills Film Festival and the S.O.Y.S. Film Festival for the film Persona. The film was also in the semi-finals for the Best Short category for the Academy Awards. Guadalupe the Virgin, another film he starred in, was named best film in the Mexico International Film Festival.
Prior​ to Yale​ he trained at The Circle in the Square Theatre in New York City. He has studied with such legendary teachers as Paul Mann, Michael Howard, Kim Stanley, Nikos Psacharopoulos and Earle R. Gister. His New York stage credits include Come Back to the Five and Dime Jimmy Dean, The Flowing Peach, Romeo and Juliet, The Admiral Bashful, The Shrewing of Blanco Posnet, Molly, Andrew After Dark, Much Ado About Nothing, Faust, and The Colonization. Regional credits include work at the Yale Repertory Theater and The Yale School of Drama: A Midsummer Night's Dream, King Lear, King John, Measure for Measure, Three Sisters, and A Ride Across Lake Constance, to name a few. Among his directing credits are Dolores and Sisters at the Company of Angels and the west coast premiere of John Ford Noonan's POPPS.
ADRIAN LATOURELLE
Graduate Yale School of Drama
Adrian earned his MFA from the Yale School of Drama, training under the esteemed acting teacher, Earle Gister. While at Yale Adrian was awarded the Carol Dye Award, awarded to one student in recognition of their talent and accomplishments in performance. He also studied for a time with legendary acting teacher Sanford Meisner and at the St. Petersburg State Theatre Arts Academy in St.Petersburg, Russia, where the dedication, deep respect of craft, and the thrilling creativity of the Russian students and faculty had a profound impact. He received his BA in theatre at Whitman College, where he met his first mentor, the wonderful Jack Freimann. Since 2011 Adrian has been an acting instructor at The Berg Studios here in LA as well as a guest instructor at the theater department of Juniata College in Pennsylvania, and the Shakespeare Theater Company in D.C.
His many stage credits include some of the best theaters in the country such as the Mark Taper Forum, the Shakespeare Theater in DC, The Seattle Rep, The Old Globe, the San Jose Rep, the Dallas Theater Center, the Yale Repertory Theater, South Coast Repertory, and he is a company member of LA's Antaeus Company. He has appeared Off-Broadway at the Kirk Theater and at other New York theaters including Target Margin Theater, Lincoln Center, The Connelly, NY Theater Workshop, and the New York Fringe Festival. Among his many collaborations on original work, he has developed and performed with The American Symphony Orchestra at Lincoln Center, and around the nation with the Ensemble Galilei.
Adrian is a consistently working TV & Film actor as well, and has appeared in numerous television series such as NCIS, Last Resort, The Closer, House, NCIS:LA, Boston Legal, Without a Trace, Criminal Minds, Numbers, and Sons of Anarchy. Adrian is also an accomplished voice over actor and recently completed a season as the voice of the evil Unalaq on Nickelodeon's hit show Avatar: The Legend of Korra.
CAMILLIA MONET
Faculty & Graduate
Yale School of Drama
Camillia Monet is an American actress and film producer. She began her career in acting, appearing in films such as War of the Worlds, directed by Steven Spielberg, playing opposite Tom Cruise, Seabiscuit , opposite Tobey Maguire and as Aurora Aceveda in the Emmy Award FX hit series "The Shield." 
Monet graduated with a masters degree from Yale University ( Drama School) and graduated from UCLA's Producing Program. Some of her t.v. guest roles include: CBS; Cold Case, FX; Saving Grace, NBC Law & Order, and CBS; The Agency. Recently she completed filming in the upcoming feature Await The Dawn. And will be featured in a documentary alongside Sally Kirkland entitled " Three Generations" women in a new Hollywood. Camillia's Broadway, Off-Broadway and regional theatre credits include: The Roundabout Theatre, Lincoln Center, Playwrights' Horizon, Second Stage, Here Theatre, Portland Center Stage, Actor's Theatre of Louisville, San Diego Repertory South Coast Repertory, Indiana Repertory ,Philadelphia Drama Guild, Merrimack Theatre, A.C.T. , Mark Taper Theatre. She's been named one of the top female entrepreneurs of 2015 in Hollywood and was praised for her work in female empowerment by Splash Magazine. She has been a Guest Artist and Speaker at UCLA, Rome University, and Scuola Di Teatro in Bologna, Italy. She is an adjunct professor at various institutions such as NYU ( Tisch School), Woodbury University and the New York Film Academy. She is an active  board member for SHINE! YOUTH MUSIC THEATRE, Advisory Board member of LoNyLa, Women In New Hollywood Film Festival , 2019 Juror for Walla Walla Movie Crush Festival and President Emeritus of the Figari Film Festival, Sardenia Italy.
TESSA AUBERJONOIS
Graduate
Yale School of Drama
– 2018 Lunt-Fontanne Recipient
Tessa Auberjonois has appeared on The Affair, Shameless, Lucifer, I'm Dying Up Here, Modern Family, Law & Order(s), ER, How I Met Your Father, and many other shows as well as feature and short films. On stage, she has originated roles and helped develop new works in numerous new American plays and worked closely with playwrights such as Rajiv Joseph, Annie Weisman, Neil LaBute, Lucas Hnath, Melissa Ross, Jessica Goldberg, Richard Greenberg, Lucy Thurber, Noah Haidle, etc. and has performed in many classical and contemporary plays Off-Broadway and at theatres across the country such as the Kirk Douglas and South Coast Repertory, Hartford Stage, Yale Rep and The Shakespeare Theatre of D.C. among others.
Her voice-over work is extensive and includes Cartoon Network and The Simpsons, audiobooks, videogames, and re-voicing lead roles in feature films. Awards include the 2020 Ovation Award for Best Lead Actress in a play, the 2018 Lunt-Fontanne Award, Best Actress in a play 2017 OC Weekly, Nominated for Best Female Guest Star for a TV Voiced Performance 2018 from Behind the Voice Actors, Sermoonjoy Fund and Fox Foundation Fellowships, and the Oliver Thorndike Award for excellence in acting upon graduation from The Yale School Drama, where she trained, as well as LAMDA. She has taught and coached voice and speech, dialect and accent work, and voiceover to actors at many programs in LA and privately as well as being currently on faculty at AMDA.
ANN NOBLE
Graduate
Northwestern University
Ann Noble is a professional actor, playwright and educator with over twenty-five years of experience. Originally from Chicago, she graduated from Northwestern and co-founded the Irish Theatre Company of Chicago (formally Seanachai Theatre). She is a member of Rogue Machine Theatre and Antaeus Theatre here in Los Angeles. Her plays have been produced all over the world, and her recent SoCal theatre acting credits include work with South Coast Rep, Antaeus, Rogue, The Road, The Odyssey, The Victory, Malibu Playhouse, Sierra Madre Playhouse, Moving Arts and ETC of Santa Barbara. She is also a chaplain for the L.A County jails and teaches theatre to incarcerated/under-served youth, including work with Homeboy Industries and L.A.'s Museum of the Holocaust.
JOBY EARLE
NYU's Tisch School of the Arts
Yale School of Drama
Joby has performed at Lincoln Center, Playwrights Horizons, Yale Rep, South Coast Rep, A.R.T., The Berkshire Theater Festival, The Huntington Theater, Center Theater Group, and The Geffen Playhouse.
His television credits include: The Blacklist, The Exorcist, and The Good Fight. He holds a BFA from NYU's Tisch School of the arts and an MFA from the Yale School of Drama. He has been teaching actors since 2006 and has taught at Columbia, NYU, Yale as well as at
the City College of New York. His background as a voice teacher is based on the combined works of Kristin Linklater and Katherine Fitzmaurice as taught by master teachers Walton Wilson and Grace Zandarski. He has also studied with Andrew Wade, former head of voice at the Royal Shakespeare Company.
GIGI BERMINGHAM
Gigi is a Los Angeles-based actor, teacher, director, playwright, and journalist. In New York, she studied at HB Studio, and in L.A. with John Lehne (Actors Studio). Film: Black Panther: Wakanda Forever, Amsterdam, The Out-Laws (Netflix), Save the Date, Alex and Emma. TV: Terminal List, Loot, American Horror Stories, NCIS: L.A., S.W.A.T., Marvel: Agents of Shield, Scandal, and recurring roles on Platonic, Sterling Affairs, Jane the Virgin, Adam Ruins Everything, Kittens in a Cage, The Britishes, General Hospital, Days of Our Lives. Stage: Gigi has appeared on many southern California stages including Center Theatre Group's Kirk Douglas Theatre, Pasadena Playhouse, Old Globe, La Mirada, International City Theatre, MainStreet Theatre, Rubicon, and others. She is a member of Antaeus Company where she has performed in Native Son, Picnic, Cloud 9, Mother Courage, The Seagull, Tonight at 8:30, and Trial By Jury; and where she directed You Can't Take It With You. Awards: L.A. Stage Alliance Ovation Awards for Master Class at International City Theatre Long Beach (Leading Actress); and for multiple-character comedy Non-Vital Organs (Solo Performance). She has also received an L.A. Drama Critics Circle Award and multiple Backstage Garland Awards.
Since 2011 Gigi has led business of acting support groups designed to provide accountability, encouragement, and information to early and mid-career actors.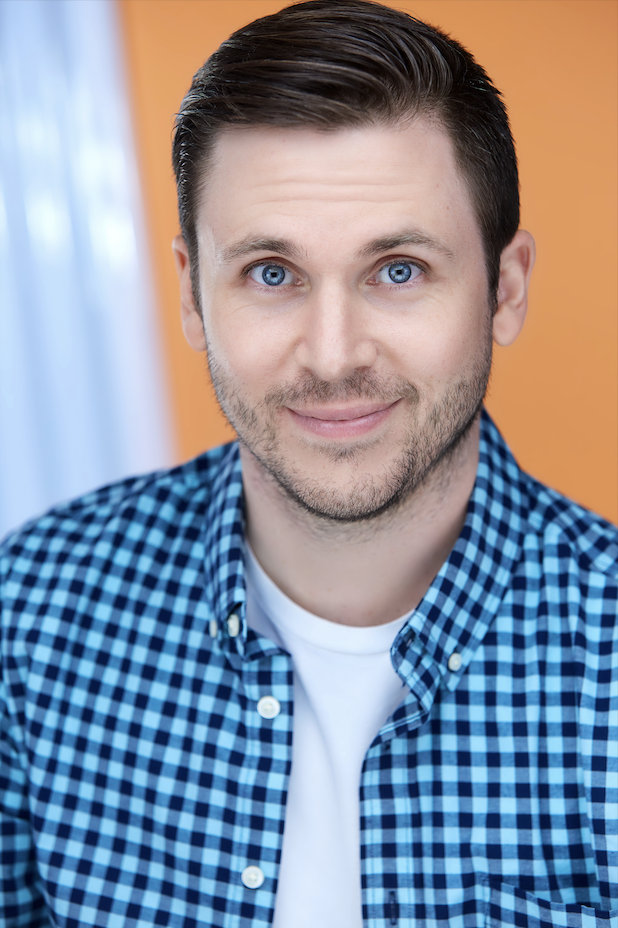 DREW HORTON
Drew Horton is a working actor who lives for improv. He has trained with UCB, Groundlings, and The Improv Space. Drew is a frequent mainstage performer at UCB, and performs a monthly improv show with his team "Dub Set" at The Pack Theater. He credits much of his on-camera success to the confidence that he built from improv class!
CORNELL WOMACK
Graduate of Juilliard School of Drama
Cornell studied acting at the Juilliard School of Drama. After an 8 year hiatus, in which he pursued a PH.D. in the history of capitalism, he returned to acting. Since then he has appeared in both Off-Broadway and Broadway productions where he once shared the stage with a childhood hero, James Earl Jones. He has appeared in nearly 25 television shows and four films, including a recurring role on the FX series, Rescue Me, playing the character of Richie.
Cornell has the good fortune to have a fun and successful voice-over career. This has included narrating several popular documentary series. Recording the narration for a series is truly a creative collaboration and he has enjoyed working with each group of directors and producers to craft a vocal sound that best compliments and enhances the content of their storylines. He's also recorded for a wide range of commercial products and brands including Super 8 Motels, Hennessy VS Cognac, Ford,  Sony Records, Planters Almonds, Lowe's Home Improvement. On the animation front, he's voiced leading roles in video games and cartoons. He can also be heard as the voice on NFL Gameday Morning, on the NFL Network, which he has done for the past 4 years
POPULAR CLASSES
markl
2023-11-03T19:52:59+00:00
Without the ability to fully utilize their voice, no actor can be counted on to express themselves in the dynamic, creative way our industry demands.
markl
2023-10-27T14:33:29+00:00
Acting classes at Berg Studios have been recognized by students throughout Los Angeles, as being both unique in the approach to the development of technique and incredibly valuable.