Our workshops are designed to both stand on their own and to compliment the classes and technique taught at the studio. The lessons taught in the workshops are immediately implemented and expanded on in classes. Workshops are either taught by Berg Studios instructors, or guest artist teachers invited to host workshops for our students.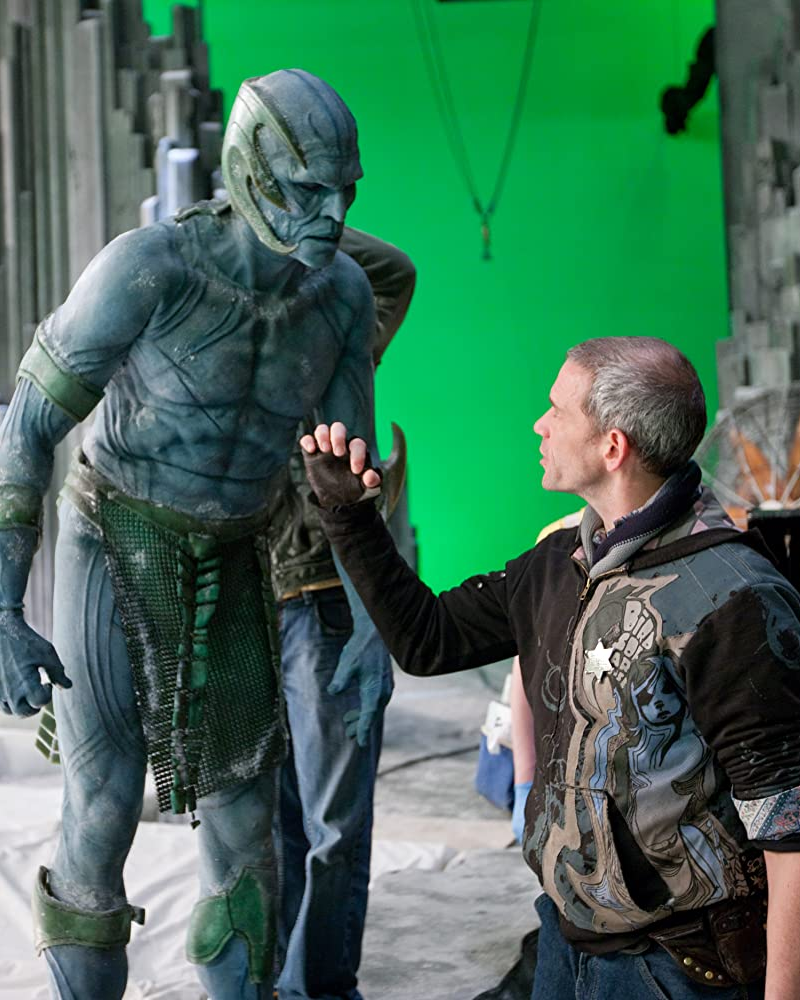 Aliens, Gods, Heroes, and Monsters: Creating compelling characters in Film / TV
Berg Studios is excited to announce a three-day intensive workshop with renowned "world builder" Paradox Pollack, on how to create the interesting and often extreme characters that are needed more and more in today's new media landscape.
Paradox has worked directly with some of the biggest names in Hollywood including actors Jason Momoa, Alfre Woodard, Robin Williams, Will Smith, Rene Russo, Chris Hemsworth, and Tom Hiddleston, directors JJ Abrams, Kenneth Branagh, Francis Lawrence, and Steven Knight. His films include "What Dreams May Come", "Thor", "Star Trek", "I Am Legend" and most recently AppleTV's new hit series "See" starring Jason Momoa.
In this workshop, Paradox will be sharing the experiences, step by step techniques, and design practices with which he has guided many of today's most successful actors to create iconic characters.
Working with TV/Film, Stage, VR and Video Game frameworks, Paradox Pollack will be helping you to find compelling choices, from the subtle to the extreme, and exploring the new format of studying our craft with a group, linked virtually.
Paradox will be working with you on an exploration on how new performance media, such as motion capture, are rooted in the original art of story telling. The techniques of storytelling are ancient and arose alongside the generation of language, and the road from indigenous ritual, to the Italian Commedia dell'arte, to the modern sitcom, and to the video game cinematic and VR interactive interface is one long journey. Being familiar with these sources helps performers bring a new perspective to these modern mediums.
This is a very physical workshop and it is essential that you have a space that allows you to move freely.
About Paradox Pollack:
Paradox's 35 years of stage experience and 25 years working in front of, and behind the camera on film, video games and experimental media has created the foundation for his work as a fight choreographer and movement director for feature films. Paradox specializes in a variety of dance, combat, and motion-capture styles and techniques, and for the past 10 years has worked with both film-making veterans and upcoming young stars to build their on-screen movement styles.
Paradox began his theatrical work in circus where he was a writer, director, and performer in dozens of shows and toured nation-wide as a dancer, contortionist, and whip-wielding ringmaster. Co-founder of both Dream Circus and Mystic Family Circus (San Francisco). He created shows for Cirque Du Soleil and performed with many other companies, including Circo Zero (San Francisco), Bindlestiff Family (New York), Lucent Dossier (Los Angeles), and Cahin Caha (Paris).
From the set of Apple TV's See with Jason Momoa, Alfre Woodard, and Sylvia Hoeks;
To developing iconic characters and creatures as Marvel's Thor and Loki, and the Infected from I Am Legend.
Interview with Alfre Woodard about Paradox's work. Skip to 11:07 for the relevant portion.
When:
Monday, July 27th
Thursday, July 30th
Sunday, August 2nd
Time:
11 AM – 2 PM PST
Where:
Online!
Price:
$250 student price (you must be currently enrolled in a scene study class to receive the student discount)
$300 non-student price
The Art & Craft of Solo Performance with Ann Noble
Ever wanted to tell your story? Either on the stage or online? And ever been daunted by exactly how do it? In this new era of the content creator, there has never been a more necessary time to become familiar with the special set of skills this kind of performance requires.
Solo Performance can be one of the most rewarding–as well as challenging–experiences for an actor. It requires additional skills not usually practiced by the working actor: speaking to the audience, speaking to "imaginary people", and the art of quick and seamless character transition.
But often the most challenging is the actual writing of the script. There appear to be "no rules" to Solo Performance storytelling, but when studying the work of such giants as Whoopi Goldberg, John Leguizamo, and Lily Tomlin, and Anna Deavere Smith,
several principles are revealed that can shine a light on the methods and madness of what can be a most extraordinary and cathartic endeavor.
With over twenty-five years experience as a professional actor and playwright/new media writer, Ann Noble has worked extensively as a solo performer and has created a workshop that walks the actor through both disciplines of acting and writing specifically for this medium; the result is a toolbox which will give you the confidence to take your story out into the world, where it belongs.
Ann Noble is an actor, playwright/screenwriter, director, arts educator and solo performer with over thirty years professional experience. She is also a beloved instructor here at Berg Studios. Originally from Chicago and co-founder of the Irish Theatre Company (formally Seanachai), she graduated from Northwestern's Theatre School and trained at the Yale School of Drama's "Midsummer in Oxford" program. She has worked all over the country, particularly in Chicago, L.A. and NYC, and her work has been produced/filmed all over the globe. She currently teaches scene study at Berg Studios as well as at Antaeus Theatre (where she is head of casting, as well as a long-time ensemble member); she also teaches Shakespeare, poetry and storytelling to incarcerated youth and former gang members at various institutions here in L.A. including Homeboy Industries. As a director, she has worked with Warriors For Peace, Antaeus Theatre, as well as for the L.A. Museum of the Holocaust's annual theatre program, "Voices of History". As a solo performer, her work began at N.U. in Dietrich: The Blue Angel; she has since performed at other college campuses and venues in NYC and Chicago, as well as at D.C.'s Capitol Fringe Fest in Stanley Ann: The Unlikely Story of Barack Obama's Mother. The piece was also workshopped at the Kirk Douglas and the Powerhouse, and ran at L.A.'s LGBT Center where she also worked personally with Lily Tomlin and Jane Wagner on the ensembled re-boot of Search For Signs of Intelligent Life in the Universe. Ann is currently workshopping a brand new one-woman play, Wednesday's Child, written by Wendy Graf, directed by Laura Gardner. She also serves as a chaplain in the L.A. County jails.
When:
Fridays and Sundays 1 – 4 PM
July 24th, 26th, 31st.
August2nd, 2nd, 14th, 16th, 21st, 23rd
Where: Online!
Cost:
$250 student price (you must be currently enrolled in a scene study class to receive the student discount)
$300 non-student price
Shakespeare

 Workshop with Rob Clare: June 27th – August 1st 2020
We are excited to once again welcome Rob Clare back to the studio to lead an online workshop in Shakespeare scene study! Rob is an internationally recognized Shakespeare specialist and former member of the Royal Shakespeare Company (RSC).
This class is for a small number of committed actors, with or without previous experience of Shakespeare. Students who have taken Shakespeare with Rob before are encouraged to return, as this class is dedicated to exploring scene work.
Whether preparing for auditions, to get over any inhibitions, or whatever your interest, get up on your feet — get creative. Breathe new life into classic verse! Pick up key strategies and fundamentally practical approaches to help and empower you, in bringing Shakespeare's text to vivid, fresh, confident and flexible life onstage. You are actors. These plays are for you.
Broad-ranging, eclectic, and always tied into the actor's process, the workshops will focus on in-depth rehearsal of Shakespeare scenes. We will show that verse, heightened vocabulary and other potentially daunting aspects of these complex texts are in fact invitations to be individually creative and spontaneously responsive, to give them new dynamism and life.
WORKSHOP DESCRIPTION:
Participants will all work on selected Shakespeare monologues and scenes with a partner. During our weekends together, we will survey differing approaches to working with Shakespeare's text, and especially to working with verse. We will demystify, and we will take away any fear. We will explore both the issues and the opportunities inherent in highly figured language, imagery, and formal elements such as rhyme. We will also consider the challenges and special opportunities of direct audience address, and in using Shakespeare speeches in auditions.
"Rob Clare has a profoundly intimate relationship with Shakespeare's characters. They feel like family. That closeness combined with some terrific instincts about acting make him an incredibly valuable resource."
(Tony Award winner) Liev Schreiber
"Rob Clare fundamentally shaped the way I approach acting – disciplined craft allowing us to unleash a sense of visceral freedom. He changed my life."
(Primetime Emmy Award winner) Riz Ahmed
"Rob Clare's workshops are practical magic… A weekend with Rob is more incisive and relevant than a semester of Shakespeare."
(Tony Award nominee) Carrie Coon
Rob Clare was originally an actor with the Royal Shakespeare Company (RSC), then a Staff Director at the UK National Theatre, and Associate Artistic Director of the major UK touring company, Compass. He was also one of the pioneers of using drama to work creatively with inmates in the UK prison system. Becoming increasingly interested in differing approaches to working with Shakespeare, he completed a doctorate in the subject at Oxford University and has since become an internationally recognized Shakespeare specialist. In the US he has worked as visiting faculty at The Juilliard School, Brown, USC Los Angeles, CSU Long Beach and NYU Tisch (both graduate and undergraduate acting). To find out more about Rob, please visit our website.
WORKSHOP DETAILS:
When:
Saturday, June 27th, 1 – 4 PM
Saturday, July 11th, 1 – 4 PM
Saturday, July 18th, 1 – 4 PM
Saturday, July 25th, 1 – 4 PM
Saturday August 1st 1 – 4 PM
Where:
Online!
Cost:
Student Price: $250
Non-Student Price: $350
Please note, to qualify for the student price you must be enrolled in a Studio Technique (scene study) class.
There are very limited spots available. Please call or email the office if you are interested in signing up.
Alexander Technique in Acting
In June, due to popular demand, we will once again be offering the opportunity to study with one of the foremost instructors of the Alexander Technique, Kristof Konrad, in a six week, online intensive, called "Alexander Technique in Acting".
We are keeping the number of students to 15 so there are very limited spots for this exciting workshop. Signups are on a first-come, first-served basis.
Kristof teaches Intensive Acting in Film and Alexander Technique Workshops in New York, Los Angeles, Milan, Berlin, Toronto, and Vancouver and at his studio here in Los Angeles, Alexander Techworks. In the U.S., he has taught at the Larry Moss Studio, the Howard Fine Studio, (LA and Melbourne, Australia), and recently worked with the artists of the Royal Shakespeare Company and the Cirque Du Soleil. Past and current students include Forest Whitaker, Kenneth Branagh, Cobie Smulders,
The study of the Alexander Technique is required at the finest drama conservatories around the world, including the Yale School of Drama, The Juilliard School, ACT, the London Academy of Music and Dramatic Art and the Royal Academy of Dramatic Art.  
The Alexander technique is a gentle approach that aims to re-educate the mind and the body through a series of movements so the body uses muscles more efficiently. Actors trained in the Alexander Technique consistently feel more confident and free — physically, vocally, and creatively — to do their best work. The physical and imaginative freedom that can be discovered through the Alexander work can be a vital part of the actor's craft. 
We are keeping the number of students to 15 so there are very limited spots for this particular workshop. Signups are on a first-come, first-served basis.
WORKSHOP DESCRIPTION: Alexander Technique in Acting
 All communication starts with the body. It is the point of origin for the voice, emotional life, and physical activity. It also creates and communicates meaning to the audience – our physical actions and responses are interpreted by the onlooker –and performers need to be in charge of this process.
In this workshop, actors develop an awareness of their psychophysical habits that cause tension and interfere with performance. By using principles of the Alexander Technique you will deepen the connections between your body, breath, and voice. Movement inspires this dynamic relationship by integrating all the parts of the actor's instrument.
COURSE CONTENT:
Connecting to the body through awareness with the Alexander Technique (getting out of your head)
Freeing impulse and response patterns
Finding the breath and rhythm of the character
Recognizing the force of habit
Improving breath coordination and vocal quality 
Improving our movement by learning to organize body relationships  
Understanding Means and Ends  
Making clear choices of intention
Infusing direction in our thinking and movement
Applying the Alexander Technique to monologues, sonnets, songs, and scenes
Learning to develop characters physically (if I believe your body, I'll believe your character)
ABOUT THE INSTRUCTOR: KRISTOF KONRAD
was born in Poland, trained as an actor at the National Dramatic Academy in Warsaw, Poland, the Fersen Studio in Rome, Italy, and Larry Moss in the U.S. While in Poland, he studied and worked with theater and film masters JERZY GROTOWSKI and ANDRZEJ WAJDA. In the USA he worked with directors FRANCIS LAWRENCE, KENNETH BRANAGH, RON HOWARD and ROLAND EMMERICH. His credits include HOMECOMING, HOUSE OF CARDS, RED SPARROW, INTELLIGENCE, ANGELS AND DEMONS, HOTEL CALIFORNIA, INDEPENDENCE DAY, SCORPION, NIKITA, SCANDAL, BURN NOTICE, OPERATION SAMUM, ALIAS, THE AGENCY, JAG, E- RING and many others. Kristof has taught for the BERLIN INTERNATIONAL FILM FESTIVAL, GENERATION CAMPUS – MOSCOW, VERBIER FESTIVAL& ACADEMY in Switzerland and UBS VERBIER ORCHESTRA. He is teaching Intensive Acting in Film and Alexander Technique Workshops in New York, Los Angeles, Milan, Berlin, Toronto, and Vancouver. In the U.S., he has taught with Jean-Louis at the LARRY MOSS STUDIO, HOWARD FINE STUDIO, LA and Melbourne, Australia, and recently worked with the artists of the ROYAL SHAKESPEARE COMPANY and the CIRQUE DU SOLEIL. Past and current students include FOREST WITAKER, KENNETH BRANAGH, COBIE SMULDERS, JOBETH WILLIAMS, ERIC DANE, and SHARON LAWRENCE.
When: June 25th
July 2nd, 9th, 16th, 23rd, 30th
Thursdays 11 AM to 1 PM
Where:  Online!
Cost:  $250 student price (you must be currently enrolled in a scene study class to receive the student discount) / $300 non-student price
Voice & Speech with Tessa Auberjonois
We are pleased to announce that another session of Voice & Speech with Tessa Auberjonois begins in June 2020! Tessa Auberjonois has worked diligently to structure the class into an eight-class, four-week format that we feel will give our students a great degree of noticeable progress and an even stronger vocal foundation.
Voice and Speech production is a technique that takes time to learn and integrate. Our everyday, habitual patterns of breathing and speaking tend to be very sensitive to factors such as nerves and personal inhibitions.  Over time and with practice, we can use vocal technique to find awareness and learn to use breath, voice, and articulation in a way that can be relied upon to communicate the versatile character choices we make as actors instead of being trapped by the limitations of our own habitual vocal patterns.
This process is akin to building new muscles at the gym or learning to play an instrument. It takes time and practice before results can be felt and utilized effectively. Therefore, each session builds upon the last as students integrate the technique into new and specific use of the voice, body, and speech. This twice weekly foundation course will teach a voice and speech warm-up, give you an excellent understanding of the mechanics of vocal production (essential for accent work), as well as how to explore text vocally. 
Class 1: Relaxation, body awareness and breath work. Identifying proper use of articulators. Speech drills.
Class 2: Adding vocalization to diaphragmatic breathing. Integrating movement to breath and voice and releasing lip and neck tension. Speech drills.
Class 3: Opening the channel: jaw, tongue, and soft palate. Speech drills. Students will begin to explore a new piece of text, reading text out loud before memorization.
Class 4: Review of vocal warm-up and speech drills. Beginning to drop text in using sounds and imagery.
Class 5: Using the resonators: chest, mouth and teeth. Speech drills. Exploring the text through articulation and movement.
Class 6: Review of vocal warm-up and speech drills. Speaking memorized text.
Class 7: Nasal and Head Resonators. Speech drills. Slating and speaking "on voice."
Class 8: Review of Vocal warm-up and Speech drills. Performing Text.
For a long while now, Berg and the instructors here at the studio have worried about a serious lack of vocal training among our students. This lack of training is not just about volume, to be sure. Without the ability to fully utilize their voice, no actor can be counted on to express themselves in the dynamic, creative way our industry demands.
Indeed, the purpose of vocal training, a standard element of all conservatory acting programs throughout the world, is to free the actor's habitual patterns of tension. This allows the vocal instrument to express character via the actor's imagination and engage the listener with language written by another, but spoken as our own. Similar to building new muscles at the gym, vocal work takes sustained and intentional practice, which gradually leads to a shift in the actor's use of their voice as the vehicle of emotion. This class will primarily teach the technique developed by Kristin Linklater, as described in her book Freeing the Natural Voice, and will consist of very active exercise work.
Sessions:
Tuesdays and Thursdays, 3:00-5:00PM
June 16th and 18th, 23rd and 25th, and 30th
Time:      1pm – 4pm
Location:  Online!
FEE:$280 for 8 classes**
**Please note, there are no payment plan options for this workshop. The full tuition must be paid in order to enroll. The price is the same for everybody, whether or not you are enrolled in scene study; there is no student discount. The tuition is equivalent to $35 per class, which is an incredible value compared to the cost of private vocal coaching.
James Kemp for a beginning and advanced series of Yat Malmgren workshops
 We are thrilled to welcome back London Academy of Music and Dramatic Arts' (LAMDA) instructor James Kemp for a beginning and advanced series of Yat Malmgren workshops. 
James was selected by Yat Malmgren to teach this work, and taught alongside him at the famed Drama Centre in London. He is recognized internationally as the leading instructor of this technique. James's past students include Michael Fassbender, Tom Hardy, and Emilia Clarke.
This work is generally taught at institutions abroad like LAMDA, Drama Center in London and NIDA. A partial list of actors trained in the Yat Malmgren technique include Anthony Hopkins, Cate Blanchett, and Gwendolyn Christie.  
We are very proud to be one of a very small number of institutions in the United States currently offering this discipline.
This year we will be offering a Beginner and an Advanced workshop. There is no prerequisite for the beginner's course. However, participating in the Advance workshop requires enrollment in this year's Beginner's course, or having completed the Beginner's course taught last year by James Kemp at Berg Studios, or having the equivalent training from another institution. Space is going quickly — call or email us to sign up.
About the Yat Malmgren Technique:
This work is based upon the work of two pioneers of 20th Century performance research: Rudolf Laban and Yat Malmgren. In these classes you will be introduced to a theory and practice which breaks down all expressive movements into their constituent parts and links them to the deep seated psychological impulses which underpin them. From these building blocks 'character' can be constructed, either from scratch as a creative act, or from a close analysis of an already existing script as an act of accurate and imaginative interpretation.
This work provides an accurate and complete way of describing human behavior and its dramatic representation, giving a practitioner the tools to transform their bodies and minds at will into the shape, form and thoughts of a new character, either subtly or profoundly. It provides a way to create nuanced and detailed characterizations, and to access inner sensations ripe for use in dramatic circumstances, and otherwise hard to stimulate.
Workshop Description: Character Analysis & Movement Psychology/The Yat Malmgren Technique
Beginner's Workshop:
At the heart of the work is the concept that we think with our bodies. Our bodies are revelatory of our inner workings, our psyche, thoughts and feelings. Therefore if we could learn to harness and manifest our inner sensations and express them through our bodies we would be able to share every inner desire, want, thought or emotion with a watching audience. And in turn that audience would be able to 'read' our thoughts, and character, and be thoroughly engaged in our dramatic lives.
By the end of the presentation you will be looking at the world through new eyes, being able to 'read' the movements of those around you for meaning, and to create physically expressive characterizations which both excite the imagination and serve the writers' intentions.
Advanced Workshop: (prerequisite Beginner's workshop @ Berg Studios or equivalent training from another institution)
In this course you will begin to apply the theory of the work practically. You will create 'Near Exercises', structured improvisations exploring character creation, tempo/rhythm and dramatic composition. You will apply the theory onto text. You are invited to use language from Shakespeare to modern drama or even contemporary film. You are invited to use pieces that you already know that you would like to explore through the additional lens of this work, or you can work on new text. Both the Near Exercises and text work will give you the chance to explore, enhance, and embed the theory into your craft and practice with detailed feedback. You will apply all the work from the Beginners workshop to a full 'realistic' text.
About James Kemp:
James Kemp trained at Drama Centre London, subsequently pursued an acting career which encompassed a number of long running West End shows. In 1998 James was invited back to Drama Centre London to work alongside and assist Dr. Yat Malmgren in the teaching of Movement Psychology (inspired by the pioneering work of Rudolf Laban), and upon the retirement of Dr. Malmgren in 2001 he inherited his work and further developed this field of study and practise through workshops for Stage Centre, Israel; the International Workshop Festival; Caravanserai Acting Studio; Beit Zvi School Of Performing Arts; Beit Lessin Theatre, Tel Aviv; LAMDA and as 'Laban Consultant' at the Young Vic.
His many successful students have included: Michael Fassbender, Tom Hardy, Emilia Clarke, Santiago Cabrera, Stephen Wight, Jaime Murray, Gwendoline Christie, Morven Christie, Damien Molony, Tamla Kari, Jodie McNee, Lucy Briggs-Owen, Bradley James, Ruta Gedmintas, Rolan Bell, John Dagleish, Lily Cole and many others. His students have won acting honours from: BAFTA, Venice International Film Festival, British Independent Film Awards (BIFA), Laurence Olivier Awards, London Evening Standard Film Awards, London Evening Standard Theatre Awards, London Film Critics Circle Awards, Los Angles Film Critics Association Awards & National Board of Review Awards, amongst many others. Their Nominations have included European Film awards, Screen Actors Guild awards & Golden Globes awards plus many others.
Here is a brief video with James discussing the technique: https://vimeo.com/159617145
Workshop Details:
Beginner's Workshop
DATES:
FEE: $500 students / $650 non-students
LOCATION: Berg Studios : 3245 Casitas Ave, Suite 104, Los Angeles, CA 90039
Workshop Details:
Advance Workshop (prerequisite Beginner's workshop @ Berg Studios or equivalent training from another institution)
DATES: August 24-25 10 am – 6pm
FEE: $250 students / $325 non-students
LOCATION: Berg Studios : 3245 Casitas Ave, Suite 104, Los Angeles, CA 90039
If you would like to sign up one or both of the workshops please respond to this email, or give us a call at the office
(323) 666-3382. Signups are on a first come, first serve, basis. Limited seats available.
Past Workshops
Yat Malmgren Workshops – Beginning & Advanced Sections
On Camera July Worksop with Gregory Berger
Viewpoints Workshop with Alexandra Billing
The Actors Imagination on Film: An on Camera Workshop w/Gregory Berger
Mastering Accents and Dialects with Tessa Auberjonois
Shakespeare Workshop with Rob Clare
Alexander Technique with Jessica Wolf: The Actor's Instrument
On-Camera Audition Workshop in New York City
Physical Comedy – Clown to Commedia
Voice Acting/Voiceovers