Our workshops are designed to both stand on their own and to compliment the classes and technique taught at the studio. The lessons taught in the workshops are immediately implemented and expanded on in classes. Workshops are either taught by Berg Studios instructors, or guest artist teachers invited to host workshops for our students.
2-day (December 14-15) intensive On-Camera Audition Workshop in Los Angeles with Gregory Berger
Berg Studios is excited to announce a 2-day (December 14-15) intensive On-Camera Audition Workshop in Los Angeles with Gregory Berger (Berg), current faculty member of The Yale School of Drama, and private coach to Lupita Nyong'o (Oscar Winner), Riz Ahmed (Emmy Winner), Winston Duke, and many others.
Berg will lead you in exploring the practical application of on-camera acting and audition technique, as well as the technical requirements of working in front of the camera, viewed through the lens of the high-pressure environments in the audition room. For this workshop, Berg will be joined by Camillia Monet, a core Studio instructor and newly appointed to teach Acting for the Camera at the Yale School of Drama.
The objective is to release the actor's imagination through technique, cultivating authentic behavior on camera. Using the same techniques and experience that he brings to his on-camera acting class at The Yale School of Drama, Berg will help you reveal your own powerful imagination and make it palpable, visceral, and transferrable to the rigors and restrictions of film and television.
We will begin with practical "dos and don'ts," and then move to positive suggestions, encouraging a commitment to artistic boldness. The class encourages the actor to illuminate the text with bold, provocative choices, rather than illustrating the mundane or predictable. Working this way allows the actor to move past any blocks, or fears, of being "captured" by the camera, enabling the actor to truly reveal their private selves. During each session, actors are filmed and will review their work with Berg.
About the Instructors: In addition to teaching in New York City and Los Angeles, Gregory Berger is the current on-camera teacher, and an alumnus, of the Yale School of Drama Graduate acting program in New Haven, Connecticut.Prior to Yale he trained at The Circle in the Square Theatre in New York City. He has studied privately with such legendary teachers as Paul Mann, Michael Howard, Kim Stanley, Nikos Psacharopoulos and Earle R. Gister.
After working for many years in New York as an actor, acting teacher, and private coach for stage and film, Gregory Berger opened Berg Studios in Los Angeles in 1998. He currently teaches both coasts, remaining the artistic director and master acting teacher at Berg Studios as well as teaching On Camera Acting at the Yale School of Drama. Berg Studios alumni have been Emmy Award Winners, Emmy Award Nominees, acted on Broadway and have had multiple series regular and guest star roles on television. Mr. Berger has also been voted Best Acting Class, Best Classical Class, Best Monologue Coach and Private Coach by Backstage Magazine.
Camillia Monet is an actress and film producer. She began her career in acting, appearing in films such as War of the Worlds, directed by Steven Spielberg, playing opposite Tom Cruise; Seabiscuit, opposite Tobey Maguire; and as Aurora Aceveda in the Emmy Award-winning series The Shield.
Monet graduated with a masters degree from Yale University School of Drama and from UCLA's Producing Program. Some of her TV guest roles include Cold Case (CBS), Saving Grace (FX), Law & Order (NBC), and The Agency (CBS). Broadway, Off-Broadway and regional theatre credits include: The Roundabout Theatre, Lincoln Center, Playwrights' Horizon, Second Stage, Actor's Theater of Louisville, South Coast Repertory, American Conservatory Theatre, and Mark Taper Forum. Camillia has taught at institutions such as NYU (Tisch School of the Arts), Woodbury University, and the New York Film Academy, and was named one of the top female entrepreneurs in Hollywood of 2015.
Workshop Details
When:  Saturday, December 14, 11:00am-6:00pm / Sunday, December 15, 2:00-7:00pm
Where: The Berg Studios: 3245 Casitas Ave, Suite 104 Los Angeles, CA 90039
Cost: Students: $300 / Non-Students: $450
To receive the student discount, you must be enrolled in a Studio Technique (scene study) class at Berg Studios for the month of December 2019.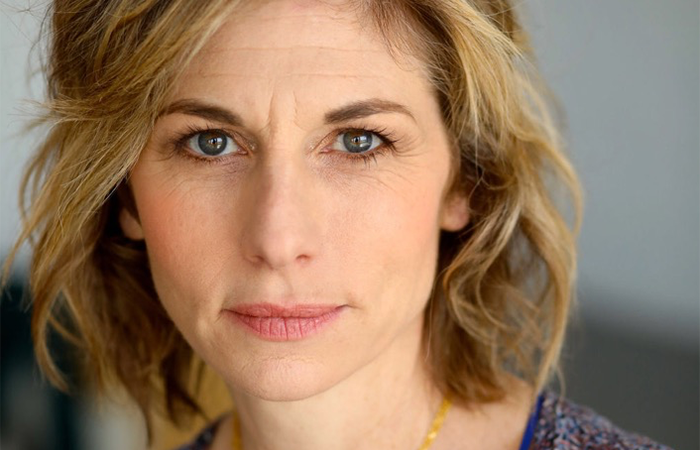 New Voice and Speech with
Tessa

Auberjonois
We are very happy to announce that our revamped voice and speech class will return in October!
During this time, instructor Tessa Auberjonois has worked diligently to restructure the class into an eight week format that we feel will give our students a greater degree of noticeable progress and an even stronger vocal foundation. 
Voice and Speech production is a technique that takes time to learn and integrate.  Our everyday, habitual patterns of breathing and speaking tend to be very sensitive to factors such as nerves and personal inhibitions.  
Over time and with practice, we can use vocal technique to find awareness and learn to use breath, voice, and articulation in a way that can be relied upon to communicate the versatile character choices we make as actors instead of being trapped by the limitations of our own habitual vocal patterns.  
This process is akin to building new muscles at the gym or learning to play an instrument.  It takes time and practice before results can be felt and utilized effectively.  Therefore, each session builds upon the last as students integrate the technique into new and specific use of the voice, body, and speech.  This 8 week foundation course will teach a voice and speech warm-up, give you an excellent understanding of the mechanics of vocal production (essential for accent work), as well as how to explore text vocally. 
Syllabus:
Week 1:  Relaxation, body awareness and breath work.  Identifying proper use of articulators. Speech drills.
Week 2:  Adding vocalization to diaphragmatic breathing. Integrating movement to breath and voice and releasing lip and neck tension.  Speech drills.
Week 3:  Opening the channel: jaw, tongue, and soft palate.  Speech drills.  Students will begin to explore a new piece of text, reading text out loud before memorization.
Week 4:  Review of vocal warm-up and speech drills.  Beginning to drop text in using sounds and imagery.  
Week 5:  Using the resonators: chest, mouth and teeth.  Speech drills.  Exploring the text through articulation and movement.  
Week 6:  Review of vocal warm-up and speech drills.  Speaking memorized text.
Week 7:  Nasal and Head Resonators.  Speech drills.  Slating and speaking "on voice".
Week 8:  Review of Vocal warm-up and Speech drills.  Performing Text. 
For a long while now Berg and the instructors here at the studio have worried about a serious lack of vocal training among our students. This lack of training is not just about volume, to be sure. Without the ability to fully utilize their voice, no actor can be counted on to express themselves in the dynamic, creative way our industry demands.
Indeed, the purpose of vocal training, a standard element of all conservatory acting programs throughout the world, is to free the actor's habitual patterns of tension. This allows the vocal instrument to express character via the actor's imagination and engage the listener with language written by another, but spoken as our own. Similar to building new muscles at the gym, vocal work takes sustained and intentional practice, which gradually leads to a shift in the actor's use of their voice as the vehicle of emotion. This class will primarily teach the technique developed by Kristin Linklater, as described in her book Freeing the Natural Voice, and will consist of very active exercise work.
TEACHER:
Tessa Auberjonois started her voice-over career soon after graduating from the Yale School of Drama and has 
consistently worked as a voice-over artist while also performing on stage and screen. In 2017 Tessa was nominated for a Behind the Voice Actors award for best featured actress in a television series. She is trained in Linklater Technique and International Phonetics, and has taught Voice and Speech at NYFA, AMDA, Cal Arts, and the Sag-Aftra Foundation. Tessa has been the voice of several national campaigns, including Princess Cruises, Glade, White Castle, FEMA and many others. She's voiced video games, re-voiced starring roles in feature films with major directors (and signed NDA's saying she can't tell you what or who), and narrated audiobooks.  
Workshop Details:
DATES and TIME: Every Thursday from 3 PM  to 5 PM
October 3rd, 10th, 17th, and 24th
November 7th, 14th, 21st, and 28th
LOCATION: The Berg Studios  3245 Casitas Ave, Suite 104 Atwater Village, CA 90039
FEE:  $280 *tuition can be split into two payments of $140 with an 8 week commitment
Past Workshops
Yat Malmgren Workshops – Beginning & Advanced Sections
On Camera July Worksop with Gregory Berger
Viewpoints Workshop with Alexandra Billing
The Actors Imagination on Film: An on Camera Workshop w/Gregory Berger
Mastering Accents and Dialects with Tessa Auberjonois
Shakespeare Workshop with Rob Clare
Alexander Technique with Jessica Wolf: The Actor's Instrument
On-Camera Audition Workshop in New York City
Physical Comedy – Clown to Commedia
Voice Acting/Voiceovers