Our workshops are designed to both stand on their own and to compliment the classes and technique taught at the studio. The lessons taught in the workshops are immediately implemented and expanded on in classes. Workshops are either taught by Berg Studios instructors, or guest artist teachers invited to host workshops for our students.
(Feb 22-24) Masterclass in Physical Comedy – 
Clown

 to Commedia
Christopher Bayes is back!! Don't miss this exciting opportunity!
We are excited to once again welcome Christopher Bayes back to the studio for his Masterclass in Physical Comedy – Clown to Commedia! 
Christopher is one of the world's leading instructors in the world of Clown and Physical Comedy and is Head of Physical Acting at the Yale School of Drama, where he has been teaching for the last 20 years. He is known internationally as a world-class contributor to clown, commedia dell'arte, and what he terms "the pandemonium arts." His past students include Mahershala Ali, Jessica Chastain, Adam Driver, Oscar Isaac and many more.  
We are thrilled to have Christopher Bayes back with us to share his insights and unique perspective with the studio. This one is not to be missed!
Workshop Description: Masterclass in Physical Comedy – Clown to Commedia
In this intensive workshop, you will begin the awe-inspiring and often messy journey in search of your clown…or what is uniquely funny about YOU!  You will embark on adventures in the hilarious and raucous world of commedia dell'arte, where you will explore universal archetypes of the hilarious.  
The pursuit of the clown is the search for the authentic, playful self and its unique relationship to its comic world. Your clown is your comic nature. It cannot be crafted; it must be discovered. Once discovered, it will stay with you always because it lives in your personal sense of play. Everybody has a clown in them, and thousands of characters can come from that clown. We will pursue the clown in earnest exploring all of its messy and hilarious beauty. Once connected, you will move on to explore archetype and transformation through commedia dell'arte. Through the specificity of these archetypes, you will learn to bring physical expression and find more freedom and ownership to your work. You will walk away with a deeper physical understanding of your talent, your true vulnerability, and your unique comic perspective.
Christopher Bayes began his career with the internationally acclaimed Theatre de la Jeune Lune, where he worked for five years as an actor, director, composer, designer and artistic associate.
He is currently the Head of Physical Acting at the Yale School of Drama, and former faculty member at the Juilliard School.  He has received numerous awards and grants including: a Jerome Foundation Travel/Study Grant, a General Mills Foundation Artist Assistance Grant, and both a Minnesota State Arts Board Fellowship Grant and a Career Opportunity Grant. He is a 1999/2000 Fox Fellow.
He was part of the creative team for the Broadway and Touring productions of The 39 Steps, for which he created additional movement and served as Movement Director. He also created the Movement/Choreography for John Guare's Three Kinds of Exile at The Atlantic Theater.
He has taught classes and workshops internationally at Cirque Du Soleil, Williamstown Theatre Festival, The Big Apple Circus, Interlochen Arts Center, Vassar College, Stella Adler Conservatory, Bard College, Fordham University, University of Texas Graduate Acting and Directing Programs, National Shakespeare Conservatory, University of Minnesota Graduate Acting Program, the Guthrie Theater, Iowa State University, and Theatre de la Jeune Lune.
Workshop Details:
When:  Saturday, February 22nd,    10:00AM-5:00PM / Sunday,   February 23rd,     10:00AM-5:00PM / Monday, February 24th,      10:00AM-5:00PM
Where: Thymele Arts: 5481 Santa Monica Blvd, East Hollywood, CA 90029
Cost:  Student Price:  $500  / Non-Student Price:  $650
2-day (Feb 8th & 9th) intensive On-Camera Audition Workshop in NYC
Berg Studios is excited to announce a 2-day (January 25-26) intensive On-Camera Audition Workshop in New York City with Gregory Berger (Berg), current faculty member of The Yale School of Drama, and private coach to Lupita Nyong'o (Oscar Winner), Riz Ahmed (Emmy Winner), Winston Duke, and many others.
Berg will lead you in exploring the practical application of on-camera acting and audition technique, as well as the technical requirements of working in front of the camera, viewed through the lens of the high-pressure environments in the audition room.
The objective is to release the actor's imagination through technique, cultivating authentic behavior on camera. Using the same techniques and experience that he brings to his on-camera acting class at The Yale School of Drama, Berg will help you reveal your own powerful imagination and make it palpable, visceral, and transferrable to the rigors and restrictions of film and television.
We will begin with practical "dos and don'ts," and then move to positive suggestions, encouraging a commitment to artistic boldness. The class encourages the actor to illuminate the text with bold, provocative choices, rather than illustrating the mundane or predictable. Working this way allows the actor to move past any blocks, or fears, of being "captured" by the camera, enabling the actor to truly reveal their private selves. During each session, actors are filmed and will review their work with Berg.
Workshop Details
When:  Saturday, Feb 8th,    11:00am-6:00pm + Sunday,   Feb 9th,    11:00am – 5:00pm
Where: Ripley Grier Studios: 305 W. 38th Street New York, NY
Cost:     
Returning Students :       $375
Non-Students :            $475
In order to secure a spot in this amazing workshop, contact the office (M-F 10am to 5pm PST) to put down a deposit (50% of tuition) today. Due to the nature of this workshop, deposits are non-refundable.  Based on the structure of this workshop, the purchase of individual days is not possible.
3245 Casitas Ave, Suite 104  Los Angeles, CA 90039
Cost: Students: $300 / Non-Students: $450
To receive the student discount, you must be enrolled in a Studio Technique (scene study) class at Berg Studios for the month of December 2019.         
In order to secure a spot in this amazing workshop, contact the office (M-F 10am to 5pm PST) to put down a deposit (50% of tuition) today. Due to the nature of this workshop, deposits are non-refundable.  Based on the structure of this workshop, the purchase of individual days is not possible.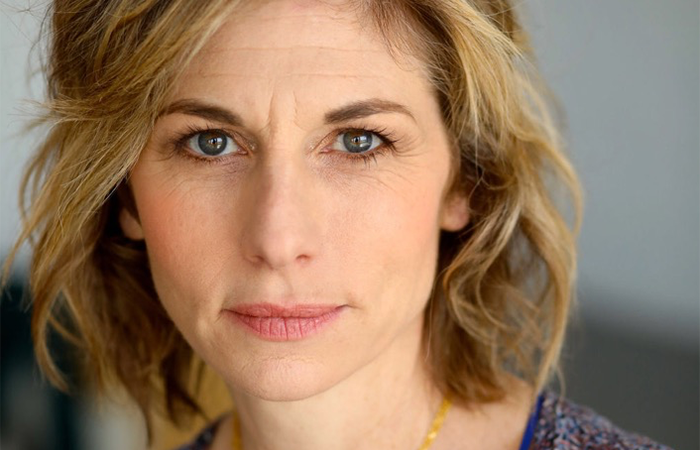 New Voice and Speech with
Tessa

Auberjonois
Back by popular demand, another eight-week session of Voice & Speech with Tessa Auberjonois begins January 2020! Tessa Auberjonois has worked diligently to restructure the class into an eight-week format that we feel will give our students a greater degree of noticeable progress and an even stronger vocal foundation. 
Voice and Speech production is a technique that takes time to learn and integrate. Our everyday, habitual patterns of breathing and speaking tend to be very sensitive to factors such as nerves and personal inhibitions.  
Over time and with practice, we can use vocal technique to find awareness and learn to use breath, voice, and articulation in a way that can be relied upon to communicate the versatile character choices we make as actors instead of being trapped by the limitations of our own habitual vocal patterns.  
This process is akin to building new muscles at the gym or learning to play an instrument.  It takes time and practice before results can be felt and utilized effectively.  Therefore, each session builds upon the last as students integrate the technique into new and specific use of the voice, body, and speech.  This 8 week foundation course will teach a voice and speech warm-up, give you an excellent understanding of the mechanics of vocal production (essential for accent work), as well as how to explore text vocally. 
Syllabus:
Week 1: Relaxation, body awareness and breath work. Identifying proper use of articulators. Speech drills.
Week 2: Adding vocalization to diaphragmatic breathing. Integrating movement to breath and voice and releasing lip and neck tension. Speech drills.
Week 3: Opening the channel: jaw, tongue, and soft palate. Speech drills. Students will begin to explore a new piece of text, reading text out loud before memorization.
Week 4: Review of vocal warm-up and speech drills. Beginning to drop text in using sounds and imagery.  
Week 5: Using the resonators: chest, mouth and teeth. Speech drills. Exploring the text through articulation and movement.  
Week 6: Review of vocal warm-up and speech drills. Speaking memorized text.
Week 7: Nasal and Head Resonators. Speech drills. Slating and speaking "on voice."
Week 8: Review of Vocal warm-up and Speech drills. Performing Text. 
For a long while now, Berg and the instructors here at the studio have worried about a serious lack of vocal training among our students. This lack of training is not just about volume, to be sure. Without the ability to fully utilize their voice, no actor can be counted on to express themselves in the dynamic, creative way our industry demands.
Indeed, the purpose of vocal training, a standard element of all conservatory acting programs throughout the world, is to free the actor's habitual patterns of tension. This allows the vocal instrument to express character via the actor's imagination and engage the listener with language written by another, but spoken as our own. Similar to building new muscles at the gym, vocal work takes sustained and intentional practice, which gradually leads to a shift in the actor's use of their voice as the vehicle of emotion. This class will primarily teach the technique developed by Kristin Linklater, as described in her book Freeing the Natural Voice, and will consist of very active exercise work.
ABOUT THE INSTRUCTOR:
Tessa Auberjonois started her voice-over career soon after graduating from the Yale School of Drama and has consistently worked as a voice-over artist while also performing on stage and screen. In 2017 Tessa was nominated for a Behind the Voice Actors award for best featured actress in a television series. She is trained in Linklater Technique and International Phonetics, and has taught Voice and Speech at NYFA, AMDA, Cal Arts, and the Sag-Aftra Foundation. Tessa has been the voice of several national campaigns, including Princess Cruises, Glade, White Castle, FEMA and many others. She's voiced video games, re-voiced starring roles in feature films with major directors (and signed NDA's saying she can't tell you what or who), and narrated audiobooks.  
Workshop Details:
DATES and TIME: Every Thursday from 3 PM  to 5 PM
January 9th, 16th, 23rd, 30th
February 6th, 13th, 20th, 27th
LOCATION: The Berg Studios
3245 Casitas Ave, Suite 104
Atwater Village, CA 90039
FEE: $280 
*tuition can be split into two payments of $140 with an 8 week commitment
Past Workshops
Yat Malmgren Workshops – Beginning & Advanced Sections
On Camera July Worksop with Gregory Berger
Viewpoints Workshop with Alexandra Billing
The Actors Imagination on Film: An on Camera Workshop w/Gregory Berger
Mastering Accents and Dialects with Tessa Auberjonois
Shakespeare Workshop with Rob Clare
Alexander Technique with Jessica Wolf: The Actor's Instrument
On-Camera Audition Workshop in New York City
Physical Comedy – Clown to Commedia
Voice Acting/Voiceovers