Our workshops are designed to both stand on their own and to compliment the classes and technique taught at the studio. The lessons taught in the workshops are immediately implemented and expanded on in classes. Workshops are either taught by Berg Studios instructors, or guest artist teachers invited to host workshops for our students.
James Kemp for a beginning and advanced series of Yat Malmgren workshops
 We are thrilled to welcome back London Academy of Music and Dramatic Arts' (LAMDA) instructor James Kemp for a beginning and advanced series of Yat Malmgren workshops. 
James was selected by Yat Malmgren to teach this work, and taught alongside him at the famed Drama Centre in London. He is recognized internationally as the leading instructor of this technique. James's past students include Michael Fassbender, Tom Hardy, and Emilia Clarke.
This work is generally taught at institutions abroad like LAMDA, Drama Center in London and NIDA. A partial list of actors trained in the Yat Malmgren technique include Anthony Hopkins, Cate Blanchett, and Gwendolyn Christie.  
We are very proud to be one of a very small number of institutions in the United States currently offering this discipline.
This year we will be offering a Beginner and an Advanced workshop. There is no prerequisite for the beginner's course. However, participating in the Advance workshop requires enrollment in this year's Beginner's course, or having completed the Beginner's course taught last year by James Kemp at Berg Studios, or having the equivalent training from another institution. Space is going quickly — call or email us to sign up.
About the Yat Malmgren Technique:
This work is based upon the work of two pioneers of 20th Century performance research: Rudolf Laban and Yat Malmgren. In these classes you will be introduced to a theory and practice which breaks down all expressive movements into their constituent parts and links them to the deep seated psychological impulses which underpin them. From these building blocks 'character' can be constructed, either from scratch as a creative act, or from a close analysis of an already existing script as an act of accurate and imaginative interpretation.
This work provides an accurate and complete way of describing human behavior and its dramatic representation, giving a practitioner the tools to transform their bodies and minds at will into the shape, form and thoughts of a new character, either subtly or profoundly. It provides a way to create nuanced and detailed characterizations, and to access inner sensations ripe for use in dramatic circumstances, and otherwise hard to stimulate.
Workshop Description: Character Analysis & Movement Psychology/The Yat Malmgren Technique
Beginner's Workshop:
At the heart of the work is the concept that we think with our bodies. Our bodies are revelatory of our inner workings, our psyche, thoughts and feelings. Therefore if we could learn to harness and manifest our inner sensations and express them through our bodies we would be able to share every inner desire, want, thought or emotion with a watching audience. And in turn that audience would be able to 'read' our thoughts, and character, and be thoroughly engaged in our dramatic lives.
By the end of the presentation you will be looking at the world through new eyes, being able to 'read' the movements of those around you for meaning, and to create physically expressive characterizations which both excite the imagination and serve the writers' intentions.
Advanced Workshop: (prerequisite Beginner's workshop @ Berg Studios or equivalent training from another institution)
In this course you will begin to apply the theory of the work practically. You will create 'Near Exercises', structured improvisations exploring character creation, tempo/rhythm and dramatic composition. You will apply the theory onto text. You are invited to use language from Shakespeare to modern drama or even contemporary film. You are invited to use pieces that you already know that you would like to explore through the additional lens of this work, or you can work on new text. Both the Near Exercises and text work will give you the chance to explore, enhance, and embed the theory into your craft and practice with detailed feedback. You will apply all the work from the Beginners workshop to a full 'realistic' text.
About James Kemp:
James Kemp trained at Drama Centre London, subsequently pursued an acting career which encompassed a number of long running West End shows. In 1998 James was invited back to Drama Centre London to work alongside and assist Dr. Yat Malmgren in the teaching of Movement Psychology (inspired by the pioneering work of Rudolf Laban), and upon the retirement of Dr. Malmgren in 2001 he inherited his work and further developed this field of study and practise through workshops for Stage Centre, Israel; the International Workshop Festival; Caravanserai Acting Studio; Beit Zvi School Of Performing Arts; Beit Lessin Theatre, Tel Aviv; LAMDA and as 'Laban Consultant' at the Young Vic.
His many successful students have included: Michael Fassbender, Tom Hardy, Emilia Clarke, Santiago Cabrera, Stephen Wight, Jaime Murray, Gwendoline Christie, Morven Christie, Damien Molony, Tamla Kari, Jodie McNee, Lucy Briggs-Owen, Bradley James, Ruta Gedmintas, Rolan Bell, John Dagleish, Lily Cole and many others. His students have won acting honours from: BAFTA, Venice International Film Festival, British Independent Film Awards (BIFA), Laurence Olivier Awards, London Evening Standard Film Awards, London Evening Standard Theatre Awards, London Film Critics Circle Awards, Los Angles Film Critics Association Awards & National Board of Review Awards, amongst many others. Their Nominations have included European Film awards, Screen Actors Guild awards & Golden Globes awards plus many others.
Here is a brief video with James discussing the technique: https://vimeo.com/159617145
Workshop Details:
Beginner's Workshop
DATES:
FEE: $500 students / $650 non-students
LOCATION: Berg Studios : 3245 Casitas Ave, Suite 104, Los Angeles, CA 90039
Workshop Details:
Advance Workshop (prerequisite Beginner's workshop @ Berg Studios or equivalent training from another institution)
DATES: August 24-25 10 am – 6pm
FEE: $250 students / $325 non-students
LOCATION: Berg Studios : 3245 Casitas Ave, Suite 104, Los Angeles, CA 90039
If you would like to sign up one or both of the workshops please respond to this email, or give us a call at the office
(323) 666-3382. Signups are on a first come, first serve, basis. Limited seats available.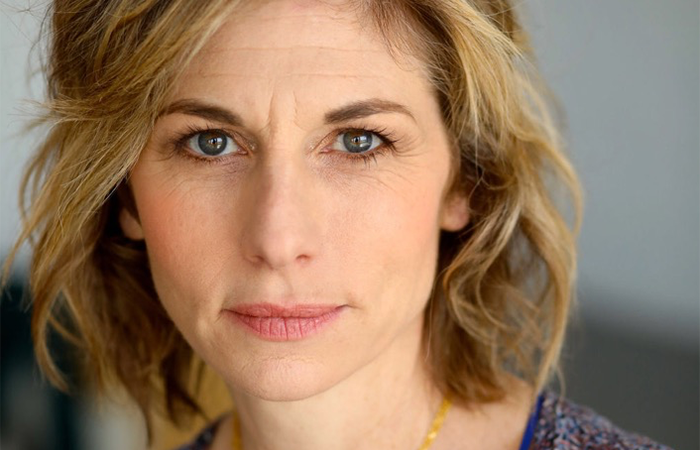 New Voice and Speech with
Tessa

Auberjonois
We are pleased to announce that another eight-week session of Voice & Speech with Tessa Auberjonois begins in March 2020! Tessa Auberjonois has worked diligently to structure the class into an eight-week format that we feel will give our students a greater degree of noticeable progress and an even stronger vocal foundation. 
Voice and Speech production is a technique that takes time to learn and integrate. Our everyday, habitual patterns of breathing and speaking tend to be very sensitive to factors such as nerves and personal inhibitions.
Over time and with practice, we can use vocal technique to find awareness and learn to use breath, voice, and articulation in a way that can be relied upon to communicate the versatile character choices we make as actors instead of being trapped by the limitations of our own habitual vocal patterns.  
This process is akin to building new muscles at the gym or learning to play an instrument. It takes time and practice before results can be felt and utilized effectively. Therefore, each session builds upon the last as students integrate the technique into new and specific use of the voice, body, and speech. This 8-week foundation course will teach a voice and speech warm-up, give you an excellent understanding of the mechanics of vocal production (essential for accent work), as well as how to explore text vocally. 
Week 1: Relaxation, body awareness and breath work. Identifying proper use of articulators. Speech drills.
Week 2: Adding vocalization to diaphragmatic breathing. Integrating movement to breath and voice and releasing lip and neck tension. Speech drills.
Week 3: Opening the channel: jaw, tongue, and soft palate. Speech drills. Students will begin to explore a new piece of text, reading text out loud before memorization.
Week 4: Review of vocal warm-up and speech drills. Beginning to drop text in using sounds and imagery.
Week 5: Using the resonators: chest, mouth and teeth. Speech drills. Exploring the text through articulation and movement.
Week 6: Review of vocal warm-up and speech drills. Speaking memorized text.
Week 7: Nasal and Head Resonators. Speech drills. Slating and speaking "on voice."
Week 8: Review of Vocal warm-up and Speech drills. Performing Text.
For a long while now, Berg and the instructors here at the studio have worried about a serious lack of vocal training among our students. This lack of training is not just about volume, to be sure. Without the ability to fully utilize their voice, no actor can be counted on to express themselves in the dynamic, creative way our industry demands.
Indeed, the purpose of vocal training, a standard element of all conservatory acting programs throughout the world, is to free the actor's habitual patterns of tension. This allows the vocal instrument to express character via the actor's imagination and engage the listener with language written by another, but spoken as our own. Similar to building new muscles at the gym, vocal work takes sustained and intentional practice, which gradually leads to a shift in the actor's use of their voice as the vehicle of emotion. This class will primarily teach the technique developed by Kristin Linklater, as described in her book Freeing the Natural Voice, and will consist of very active exercise work.
WORKSHOP DETAILS:
When: Thursdays, 3:00-5:00PM, March 19 and 26, April 9, 16, 23, 30*, May 7 and 14
* Please note, Berg Studios will be dark the week of March 30, so Voice & Speech will not meet on April 2
Where:  The Berg Studios Annex, 3273 Casitas Ave Suite #105, Los Angeles CA 90039
Cost: $280 for 8 weeks**
ABOUT THE INSTRUCTOR: Tessa Auberjonois started her voice-over career soon after graduating from the Yale School of Drama and has consistently worked as a voice-over artist while also performing on stage and screen. In 2017 Tessa was nominated for a Behind the Voice Actors award for best featured actress in a television series. She is trained in Linklater Technique and International Phonetics, and has taught Voice and Speech at NYFA, AMDA, Cal Arts, and the Sag-Aftra Foundation. Tessa has been the voice of several national campaigns, including Princess Cruises, Glade, White Castle, FEMA and many others. She's voiced video games, re-voiced starring roles in feature films with major directors (and signed NDA's saying she can't tell you what or who), and narrated audiobooks. For more information, you can find Tessa's bio on our website.
**Please note, there are no payment plan options for this workshop. The full tuition must be paid in order to enroll. The price is the same for everybody, whether or not you are enrolled in scene study; there is no student discount. The tuition is equivalent to $35 per class, which is an incredible value compared to the cost of private vocal coaching.
Past Workshops
Yat Malmgren Workshops – Beginning & Advanced Sections
On Camera July Worksop with Gregory Berger
Viewpoints Workshop with Alexandra Billing
The Actors Imagination on Film: An on Camera Workshop w/Gregory Berger
Mastering Accents and Dialects with Tessa Auberjonois
Shakespeare Workshop with Rob Clare
Alexander Technique with Jessica Wolf: The Actor's Instrument
On-Camera Audition Workshop in New York City
Physical Comedy – Clown to Commedia
Voice Acting/Voiceovers